Meet the Artist: Anna Carlson
by John Oldani
Anna Carlson (@hey.carlson) is a multifaceted artist from the UK. Much of her work explores geometry and its relevance in social infrastructure and culture, alongside minimalist concepts. A creator at a young age, Carlson's style is greatly influenced by her British roots.
"I was always making art as a kid and ended up doing my Foundation in 1998/99 at the Kent Institute of Design," she said. "I loved everything about art foundation – the pure indulgence and playfulness of experimenting in such a variety of mediums and concepts every day."
She took this experimentative mentality with her as she grew as an artist. Her extensive portfolio now consists of meticulously constructed masterpieces rooted in shapes, angles, and sports courts.
She frequently experiments with all types of mediums and various approaches to form, but her distinct style is apparent and well-received.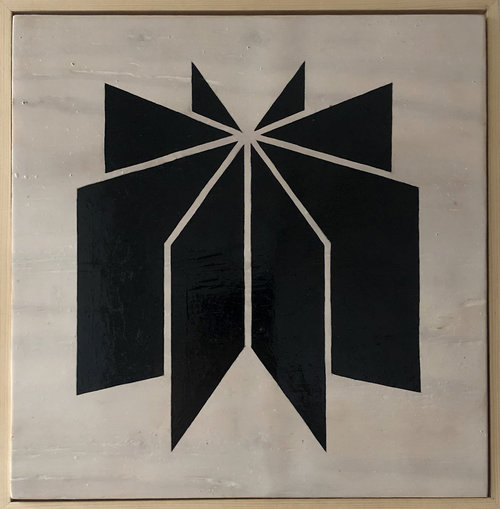 One of Carlson's most notable influences came in the late 90's when she attended an art show at the Royal College of Art in London called, Sensation.
"Sensation was controversial, in your face, full of strong female artists and artists from working class backgrounds," Carlson said. "It was everything that encapsulated the spirit of the late 90's for me. It was an exciting time."
Drawn to forward-thinking culture, Carlson moved to a progressive British seaside city called Brighton, UK in her mid-twenties.  It was there she found a better quality of life by the sea and subconsciously honed in on her loyal passion for the arts.
"I always had a consistent low level of art projects on the go over the years. I found I fundamentally needed them, like exercise or sleep or meditation, for my sanity and happiness," she said. "It wasn't until a couple of years ago that I really picked it up again, deciding I wanted to make art as a consistent, ongoing practice and actually call myself an artist."
Exhibition: Court 
Court is essentially Carlson's ongoing exploration of sports courts and their unique traits and geometry. It's an exhibition that sparked Anna Carlson's popularity, with viewers adoring the relatable abstraction that a court might present.
"I had been drawn to painting abstract, engineered, sharp objects, when one day I noticed a little corner of a school gymnasium floor and its multiple court markings," she said. "It had me considering the variety of colours and geometry you see in the spectrum of different courts. I just started drawing simple markings – mostly for my own amusement, I found them soothing with their neatness and rules."
Carlson's exploration grew into an incredible exhibition relating to her own challenges and progression, but the simple beauty of a court can translate into many different things for other people.
"Sport is such a large part of the fabric of society and social infrastructure. It's connected with the human condition on so many levels; individualism, team-ness, tribalism, tenacity, resilience, potential, play, rules, failure, success…Seeing court markings, especially out of context, can really evoke emotions and memories in people, and I love that. I love hearing what my work brings up for people; it's often so different."
Carlson showcased Court through an immersive experience intentionally positioned in a small exhibit space. The smaller space jammed a basketball court onto a wooden floor and onto the walls, messing with the viewers perspective of the room.  The immersion spanned further with a featured sound piece from a tennis match and basketball game; the beat of a rally and the squeak of shoes on hardwood.
All of Anna's screen-prints of court markings are created by hand, adding to the authenticity and dedication she displays on every project.
"Court markings in real life are never perfect, mostly created by a human pushing a machine and some painted with brushes and tape," she said. "They actually look quite odd when computer generated. I also love the feeling of being reliant on nothing but my own hands and some pencils and paint."
Anna Carlson is an artist making major moves in the industry while maintaining her authentic roots through original artwork that embodies her mindset.  Look for her to continue in her groove as she experiments with all types of mediums and concepts going forward.
"I'm just excited and hopeful to keep hearing what my work brings up for people from them. It's the most lovely unexpected bonus at the end of creating something I needed to create at the time, for my own curiosity, satisfaction and amusement."
Anna Carlson on other influences:
One of my biggest heroes and influences in this area is Lance Wyman, who created the design system around the Mexico 68 Olympics, and went on to design many iconic logos and design systems. I love flicking through his old published hand sketchbooks and I love the idea that something that looks so engineered is made by hand.
Another key influence in both my work and one of the reasons that I've made more work recently is my friend and UK artist, Gary Stranger. Gary has been influential in that I've found myself trying to emanate his preciseness and meticulousness (impossible, the man is a wizard), and he's also encouraged and most importantly challenged me along the way – encouraging me to think about the integrity of my process and the materials I use, to use my hands and not make shortcuts.
I've built my career around working with large businesses and brands around creativity, effective collaboration and innovation, essentially facilitating them to think and work like artists.
On future goals:
I've just returned from an art residency called Casa Lü in Mexico City, where I had a breakthrough of discovering the possibilities for sculptural pieces with courts. I made some prototypes of courts with bends in them – and loved the abstractions and shadow play they presented.
The pieces have a million different angles, I could move around them and photograph them for hours, how shadows change as the light changes etc. I'm planning on making some more small sculptures based on tennis courts with a local foundry in Sussex, cast out of melted down old aluminum tennis rackets.
My dream for the sculpture work is to go large; make something that people can climb and play in a very different way they would the court in its usual guise. A total dream would be in a public playground; bringing the art into the fabric of public infrastructure, where courts belong.
---
Limited Edition "Goals" Release
Goals (2019) by Anna Carlson
Hand-pulled screen print on 300gsm Somerset Satin paper. Hand embossed finish with artists seal.
BLUE – Edition Of 3 / 48cm x 62cm / £120 / $150 USD
BLACK – Edition Of 3 / 48cm x 62cm / £120 / $150 USD
BLACK – Edition Of 10 / 40cm x 51cm / £80 / $100 USD